Dose liquids directly from IBC containers with buffer tanks
Liquid dosing systems and liquid storage systems often use IBC containers, the commonest types being standard 1000-litre storage containers. IVS Dosing Technology supplies provides structural support frames, with or without built-in buffer tanks, to support the IBC vessels. The structures are made of steel or stainless steel.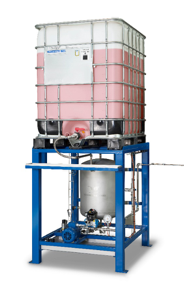 How does it work?
The major advantage of using a buffer tank is that it avoids downtime when an empty IBC container has to be changed. Buffer tanks are available in various sizes. A multiple support structure can be used for several liquids next to each other. These versions are available with removable stainless-steel drip trays in various sizes, and can be fitted with liquid detectors.
What are the characteristics and advantages?
Professional system which prevents downtime
Custom buffer tank available in steel or stainless steel
Compact design
Single or multiple support structure
Drip trays in various sizes

If you'd like to find out more about what we can do to help your organisation, please contact us to make an appointment.