IVS Dosing Technology granted patent for POWLI concept
On 6 April 2017 the Netherlands Enterprise Agency granted us the patent certificate for the POWLI dosing concept, developed by IVS.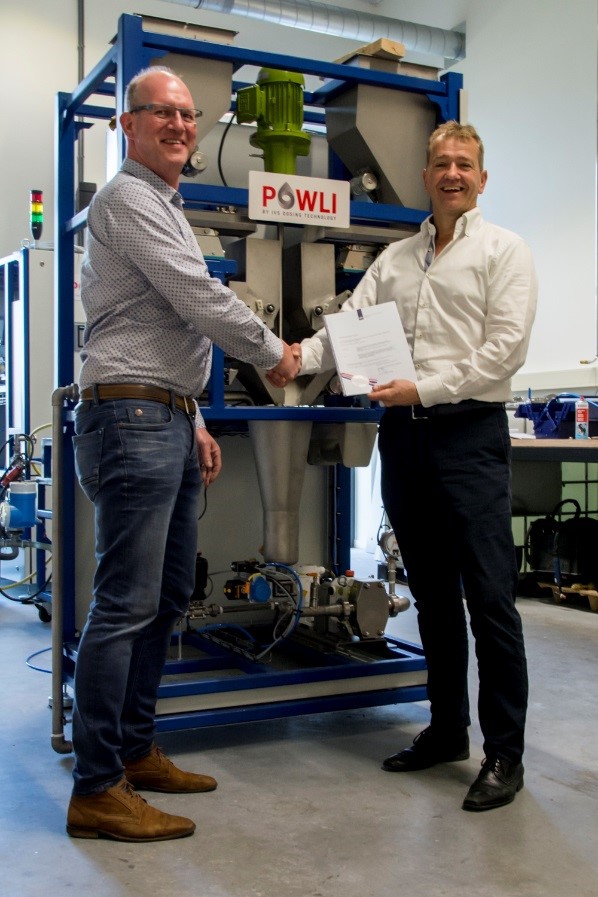 (photo: Hans den Otter and Frank Dielissen)
This innovative concept enables the addition of ingredients including coccidiostats at the end of the production line, which eliminates cross-contamination in the process between mixers and coaters. It eliminates the need for rinsing the production line, which results in considerable cost savings for mixed feed producers.
In 2014 we started developing and building the POWLI EZ, a machine for producing a concentrated liquid additive. This version is now used in various countries for the production of a liquid enzyme (production at mixed feed producer's production location), whereby the enzyme is supplied in concentrated dry form.            
On the basis of this variant we were asked if it might be possible to dose coccidiostats with the POWLI as well.
Our R&D department designed and developed the POWLI concept to this end. We presented our innovation for the mixed feed industry for the first time during EuroTier in Hannover in November 2016.
After extensive testing of the POWLI and analysis of the end results based on cross-contamination/Q10/homogeneity by Nutricontrol in Veghel, we now have a version that meets our expectations.
The POWLI has been set up in working condition since early 2017 with the Feed Design Lab in Wanssum, the international innovation centre for the mixed feed industry.
It goes without saying that we are extremely proud of the end results for the POWLI and POWLI EZ. We have been granted patents for both concepts.  
News archive